The Digital Revolution Is Upon Us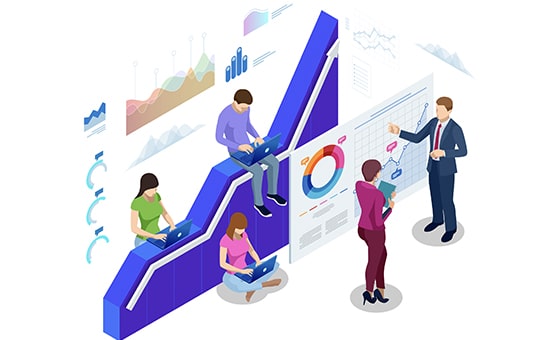 The Digital Revolution Is Upon Us
It's an uprising that, over a relatively short period, will impact companies and industries worldwide. It's a revolution that will disrupt, transform, and even threaten the existence of many companies. But this revolution is one that offers an abundance of opportunity, beginning with the opportunity to thrive in the post-transformation digital world.
This digital revolution – a rapidly-increasing reliance on digitally-enabled services and analytics, by companies and consumers – can be a double-edged sword for many organizations. Developing compelling ways to drive customer interaction with a company can promote loyalty and expand a client base, however, building and maintaining the tools to get there can be a complicated, expensive proposition. Integrating multiple internal systems to improve reporting accuracy is great, but is the information generated useful? Is investing in a new enterprise system worth it? How do you know?
For many companies to be relevant and thrive, a transformation will be required. Business operations, customer acquisition, and retention, even how companies define their core mission, may need to change to effectively meet the needs of a rapidly-evolving marketplace. In response to this disruption, companies need to rethink the role that IT will play in the future, how their workforce will be engaged, how they will safeguard newly minted digital assets, and how best to utilize those assets to advance their business goals. Transforming a business to be not just comparable to the competition, but superior to it requires careful and deliberate strategic planning. It means not just responding to problems, but holistically anticipating and avoiding them. A transformed company uses intelligently-planned software and business processes to identify and mitigate challenges before those challenges gain a foothold.
This is not a mere academic projection to think about in preparation for the future. The digital revolution isn't on the horizon, it's already here. Customers have more options than ever, with greater price and service transparency. Companies have more channels than ever to approach and win customers, to evolve their internal cultures, and to collect and assess data on key business drivers. Entire industries are threatened with obsolescence by disruptive business models that have grabbed market share at unprecedented speed. Others are experiencing significant disruption to their businesses because of newer services built around digital technologies.
The barriers to entry that used to protect established companies are significantly lower as technology start-ups continue to threaten those companies daily. Recent research conducted by Dell Technologies found that 78 percent of executives in established companies consider digital start-ups a threat, either now or in the future. Meanwhile, 48 percent of respondents said they don't even know what their industry will look like in three years' time— a stark contrast to the recent past when established companies were the stewards of their industries.
While many organizations have begun to respond, the task remains surrounded by a host of questions: Where do we start? Do the business groups lead, or does direction come from IT? What does it mean for our workforce? How do we establish ROI? Are we ready to take on the risks associated with these changes? While these and many other questions need answers, transformation requires more than an internal Q and A. Companies must also identify and address the unique challenges presented by the digital movement in order to fully embark on a journey of permanent, organic transformation. It is not enough merely to be pulled along in the current; to orchestrate a meaningful and effective transformation, companies must thoroughly understand what the digital revolution means to their business and become proactive in bringing about the necessary changes.
Information technology is core to enabling successful transformation. Sweeping changes will need to occur in many facets of business. New technologies will have to be brought in and the corresponding skills to effectively implement those technologies. A new way of thinking must be introduced, stemming from the boardroom and penetrating down to the front lines. Software will morph from a set of tools purpose-built for running a business to the central core of almost every business. Cloud strategy, mobile-first, AI, bots—today's buzzwords are rapidly becoming essential components incorporated into the next generation of products and services.
Very few companies are on the leading edge of this change, but those that are have been proactively rethinking their business models, developing new software systems, and offering services that provide rich and engaging customer experiences, while at the same time introducing unprecedented efficiencies. Other organizations are looking seriously at the challenges and possibilities inherent in updating and future-proofing (in so far as that's possible) a modern business – first and second steps toward legitimate transformation. Still, others are actively evaluating their options while waiting to see what operational and industry standards take root. Finally, a stubborn few at the tail end of the spectrum are resisting change or, worse, seem oblivious to the rapid evolution of the digital world. These companies are at the highest risk for disruption and possible marketplace elimination.
Transformation is, in essence, the key to surviving the forces of "digital Darwinism"
Digital transformation is not a vanity idea that one can choose to adopt at leisure. It is, by all accounts, a momentous paradigm shift in business operations. It means embracing a whole new perspective on doing business. It means shifting from a platform on which a business operates to one on which the very identity of the business is built. It will serve to differentiate between companies that thrive in this new digital era and ones that cease to exist. Transformation is, in essence, the key to surviving the forces of "digital Darwinism."
Whether you are actively engaged in transforming your company or have just begun to look at digital transformation and need a guide as you embark on the journey, we can assist. We're familiar with the path and we understand its challenges—it's what we do, it's how we think.