Innovation Leadership Forums April 22 Event Recap: Healthcare Opportunities Abound for Digital Transformation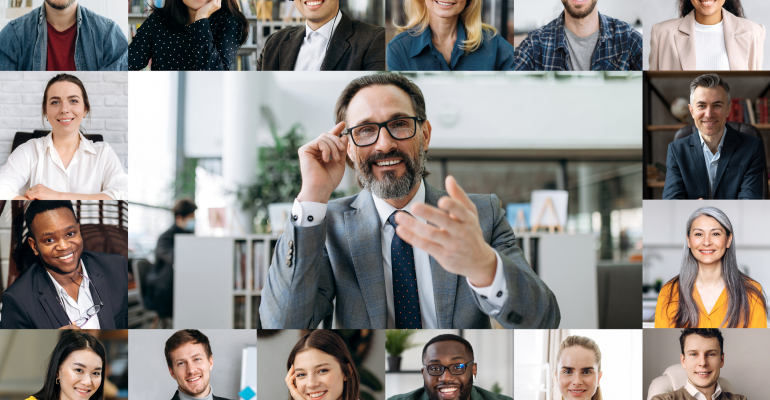 Innovation Leadership Forums April 22 Event Recap: Healthcare Opportunities Abound for Digital Transformation
Industry leaders weigh in on technology's role in consumerization, health equity, labor shortages, COVID recovery, and more.
May 5, 2022
By Melinda Wagner MBA, MS, BSN, RN, FACHE
Moderator, Sr. Client Partner – Healthcare, Technossus
I had the pleasure of moderating an exceptional panel of leaders from diverse backgrounds in healthcare, discussing four critical topics impacting today's ecosystem. I was humbled by the investment each of these leaders makes in driving change into their organizations and those they consult with and by offering incredible depth in what they are willing to share.
Our first topic was 'Consumerization' of healthcare, loosely defined as individuals asserting more control over directing their health and wellness. I asked the panel what they saw as the most important factors to address health equity by design and ensure consumerization doesn't leave behind the most vulnerable in our communities?
Mr. Mike Seagraves, who leads the digital transformation consulting practice for Phillips, emphasized that health equity in the consumerization of healthcare is not about technical transformation. Advancing health equity is about asking the right questions and deconstructing institutionalized cultures and the ways of thinking that created the bias in the first place.
Mr. Ian Slade, who is a registered nurse and founder of IT Consulting Group and HPMA, further added that true health equity is not "the final coat of paint on the systems we've built", but rather requires a reboot at the foundational level. Technology is part of the solution, but health equity is an organizational transformation in every way.
Dr. William Feaster, Vice President, Chief Health Information Officer at Children's of Orange County, shared that, in his experience, access to care, education, information, funding, etc. is the most important aspect of health equity. While certainly not 100%, the mobile phone presents the best opportunity today to reach people where they are, not just for a single transaction, but for a complete digitally-enabled experience.
Dr. Robert Lubitz, CMO at 30e Scientific and a Principal at Progressive Healthcare Inc. added that training and tools are needed that help clinicians create culturally competent strategies to care for their patients. Coupled with the low health literacy of much of the population, cultural incompetency creates tremendous communication gaps that negatively impact the provider-patient relationship and patient outcomes.
From the payer perspective, Mr. Doug Albro Vice President, Information Systems at Good Samaritan Health, reflected that health equity is not just about physical health care but includes things like mental health, food resources, housing, etc. The overall complexity of navigating the
ecosystem and especially the handoffs between sectors is a challenge even for those in the industry. Further, many people have developed distrust in healthcare systems because of past experiences where the system failed to treat them as a person. Engaging people and ultimately driving down the cost of care must include re-establishing the human relationships that have been distorted for transactional procedures.
Pivoting the discussion from equity to lessons learned in the digitization of information into the EHR, I asked the panelist what were the most important lessons learned from the EHR era that can now be applied to the consumer's digital journey? I hope that we can do better for the consumers than we did for the clinicians if we apply what we have learned. Ms. Geri Pavia, who is a Sr. Client Partner at Technossus, offered three specific pieces of advice that she gives her clients:
• More is not necessarily better so don't overwhelm the consumer with data. They need specific information, at the right time that is personalized to them.
• Evaluate where you have data integrity or reconciliation issues and resolve them before you digitize the experience. Even internally across the departments there can be disparities that will at best confuse the patient.
• The EHR has long been seen as an obstacle to the patient-provider relationship so train the clinicians and providers on how to talk with patients, so they use the digital tools as an effective relationship builder. Simple things like teaching them when and how to message the provider or where to find their appointments can become a very quick, WOW moment for the patient.
Dr. Feaster pointed out that during the EHR era we built the complexity of the healthcare system right into the EHR spending millions to hard code ourselves into painfully hard-to-use workflows. The lesson is to build for consumers in the same experiential way they do everything else in their lives, i.e. at their fingertips. Think about the patient's experience first and talk to them.
Mr. Seagraves added that while we learned a lot about implementing EHRs, it often never got applied. Leadership has to create growth-minded cultures that value simultaneously "being and becoming' so that what is developed today also creates the capability for what is needed next. He again said it starts with asking the right questions and not being binary in our thinking.
We talked about the impact to consumerization on misaligned incentives among the players in healthcare. Dr. Lubitz reflected that at the start of his practice the data needed on a patient fit on a 3X5 card which evolved into early SOAP notes and eventually the EHR. The promise of EHRs was the ability to support the provider in clinical decision-making with the right data but sadly other agendas came into play, and it became about clinically driven billing instead.
Mr. Slade pointed out that in other countries, they collect a fraction of the data and still deliver the same, or even, better care. Mr. Albro more bluntly acknowledged absolutely the incentives are misaligned. We could solve our situation if providers, payers, and regulators would align around the patient and use other industry learnings to leapfrog into the modern consumer experience. Why shouldn't the patient expect to be able to pay for their healthcare in the time it takes to Venmo a friend?
Our next topic involved moving quickly but safely on the digital journey. Digital health startups received $57.2 billion worldwide in 2021, according to a report from CB Insights, a New York firm that tracks private companies and how much money they raise. It was a 79% increase from the previous year. I asked the panel how they navigated the market with so many digital technologies hitting the market?
Dr. Lubitz and Dr. Feaster both commented on the challenge of not overwhelming the users and the need to invest in things that simplify and elevate any given process/task. The focus has to be on relevance and value to the user, such as deploying robots to unburden the nurse from menial tasks. Mr. Slade commented on the number of organizations that don't even know what all the systems are that they have today so starting with understanding your foundation and moving slow to go fast is critical.
The healthcare industry's number one problem is the labor shortage. How can we use technology to evolve traditional roles to mitigate the impacts of what is crisis levels in some areas? Dr. Feaster and Mr. Slade both pointed out that while technology can certainly play a role in extending a given clinician's capacity and ability to work at top of license/role, in nursing, regulations on patient ratios will impede the progress unless they are addressed concurrently.
Mr. Seagraves added Robotic Process Automation (RPA) can be a huge satisfier in retaining staff while also optimizing revenue. He further shared that it is not just about clinicians, administrators can also benefit from better use of the data for example via digital twins in making decisions. Dr. Lubitz talked about the use of predictive analytics to anticipate resourcing needs for such things as flu season peaks so the capacity can be flexed with the need.
From the payer perspective Mr. Albro shared that while much of their work is remote and they can therefore use professionals such as nurses literally from anywhere around the world, they still must consider the need to simplify the work and optimize the efficiency of their associates. Both Dr. Feaster and Mr. Albro described the convoluted flow of getting a bill to a payer and then actually getting it paid.
The answers must come from the HC industry, not from the additional government regulation. Mr. Albro commented the consumer's level of dissatisfaction with the system is higher now than ever in his career opening the risk that someone will come in and create a completely different system if we miss this opportunity to simplify and win back the patient's trust.
Our final topic was having peaked in the pandemic, and what's next in the recovery of the industry. One of the most striking impacts of the Pandemic has been how it has both contributed to and illuminated the mental health crisis. Dr. Lubitz added that people have also put off preventive and chronic care management, so we have to find ways to get consumers back into a 'rhythm of care'.
Dr. Feaster pointed out that well people are not a burden on the system so the opportunities for digital technologies to help patients plug into the system in new ways to prevent disease will drive down the demand and cost. Everyone wins. Ms. Pavia and Mr. Slade relayed how mental health impacts of COVID isolation and PTSD won't be known for years to come especially on children/young adults. Mr. Slade has personally been working on the use of the Metaverse technology in mental health. It is also applicable in other areas such as primary care, pain management, and pediatrics.
As I brought the discussion to a close what struck me most was that despite very diverse backgrounds, the panelists were quite cohesive on what needs to be done to improve the healthcare ecosystems and our patients' experience.
Dr. Feaster pointed out that through COVID, the healthcare industry and governmental agencies demonstrated the ability to rally around a common enemy and pivot our operations and people to respond with exceptional effectiveness. We literally shifted millions of people to work from home, converted entire units to care for the overwhelming volume of COVID patients, relaxed regulations for the good of the patient, transitioned research to practice at lightning speed, solved a global supply chain crisis, innovated, and implemented remote care and video visits and delivered a vaccine in the shortest period in history.
For all that we accomplished, there is so much more to do. In my mind, what is yet to be seen is if through continued consumerization and use of digital technology will we once again get mired in the complexities of the traditional healthcare ecosystem or actually transform our industry into a consumer-centric digital health business? Will we consider the lessons of the EHR era or codify our convoluted processes into a consumer's nightmare?
Ultimately will we ensure healthcare is truly accessible for all patients in a way they can simply orchestrate what they need when they need it? I fear if we as an industry don't continue the collaboration and laser focus, we have shown ourselves capable of, some yet-to-be-identified entity will solve it for us with a completely new system and today's players could be tomorrow's Blockbuster story.
Thank you, to all our panelists, for such a thought-provoking discussion. And many thanks to all the attendees and organizers of another successful event.
If you would like to be part of the next ILF event, please visit our website: https://www.digitalleadershipforums.com/ and follow us on social media: ILF on LinkedIn for more information.