Technossus Wins Medical Technology Innovation Award from Orange County Tech Alliance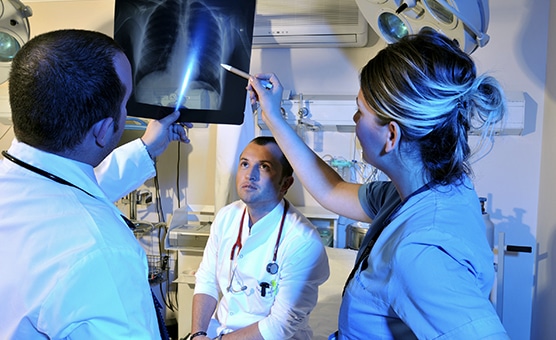 Technossus Wins Medical Technology Innovation Award from Orange County Tech Alliance
Technossus provides technology consulting and software services to clients in Southern California and nationwide, serving diverse industry verticals including aerospace, financial services, health, and insurance. Our Life Sciences practice contributes to over 320,000 healthcare decisions treating over 200,000 patients each year, and it was this experience that led to the genesis of the Helix Laboratory Information System.

OC Tech Alliance High-Tech Innovation Awards 2015
"We realized that our clients had new technologies for diagnosing cancer and other conditions but they could not bring them to market quickly – their information technology just couldn't keep up with the demands of the testing processes," explained Kevin Castle, Technossus CTO.
"Helix is a product that we designed to address any labs' workflow needs – adding new tests can be accomplished in just a matter of days. And when a lab is performing tests to identify cancer, every moment saved and every incremental increase in quality control provides a direct and real benefit to not just the laboratory, but to the physicians and patients relying on those tests. And that can literally mean the difference between life and death," Castle said.
"We're pleased to recognize Technossus and the other finalists in Medical Technology with the 2015 High-Tech Awards ceremony," said Peter Craig, CEO, of Orange County Technology Alliance. "With 45 finalists, every one of our award categories was extremely competitive and I congratulate all of them for their innovation. This was not an easy choice for our judges and we especially congratulate Technossus for their Helix LIMS's win in the Medical Technology category."
"Outstanding innovators and companies such as Technossus represent the finest of Orange County. Our tech community has a bright and exciting future," added Craig.
Technossus would also like to recognize and congratulate the other nominees and winners of this year's awards:
Public Company CEO
Paul Arling, Universal Electronics Inc. (winner)
William Brown, D-Link Systems, Inc.
Jim Mulato, Astronics Test Systems Inc.
Private Company CEO
Raymond Grainger, Mavenlink (winner)
Tom Fedro, Paragon Software Group
Stuart McClure, Cylance Inc. 
Public Outstanding Technology Company
Microsemi (winner)
Meggitt Sensing Systems
Universal Electronics Inc.
Private Outstanding Technology Company 
SYSPRO  (winner)
Greenwave Systems
Proove Biosciences
Clean Tech/Green Tech
Blossom, Blossom Smart Sprinkler Controller (winner)
NotaryCam, NotaryCam
Phoenix Energy Technologies, EnterpriseDX
Cloud/SaaS/Web Platform Solutions
Corent Technology, Corent SurPaaS® (winner)
Mavenlink, Mavenlink
Reazon Systems, Inc., RCampus Competency Management System
Consumer Devices and Software
Insteon, Insteon Hub (winner)
Cosemi Technologies Inc., OptoHD HDMI Hybrid Active Optical Cable
D-Link Systems, Inc., HD Pan & Tilt Wi-Fi Baby Camera
Cyber Security
Cylance Inc., CylancePROTECT (winner)
Netwrix Corporation, Netwrix Auditor
Secure Channels, Secure Channels PKMS2 Encryption
Enterprise Hardware & Device
Microsemi, Microsemi Integrated GNSS Master Sync Solution (winner)
ClariPhy, LightSpeed-ll CL20010
IXI Technology, PowerNet
Enterprise Software
iPourit, Inc., iPourit Self-Serve System (winner)
Levyx, Inc., Hydrogen
Telogis, Telogis Coach
Mobile & Wearable Technology
Lexmark, Lexmark Mobile Capture™ (winner)
Conexant (Acquired by Synaptics) Conexant AudioSmart CX3803 Input Preprocessing Software for Windows
Martian Watches, Martian Victory Voice Command Smartwatch
Medical Technology
ReShape Medical, The ReShape Integrated Dual Balloon
Remendium Labs/Sparton Aubrey Group Team,  leva®
Semiconductors
ClariPhy, LightSpeed-ll CL20010 (winner)
Astronics Test Systems, Inc., ActivATE Test PlatformMicrosemi,
Microsemi SmartFusion2 FPGA – Enhanced Security
Microsemi, Microsemi ZL70103 Ultra-Low Power (ULP) RF Transceiver
About Orange County Technology Alliance
Orange County Technology Alliance is a 501(c)6 nonprofit trade association committed to fast-forwarding the local innovation economy. It is the successor organization to the Orange County Council of TechAmerica and AeA. It is the only technology association addressing the needs of technology companies and their leaders based in Orange County, Calif. The alliance serves members through local networking, professional development, state and federal advocacy, savings on business services, and industry recognition. To learn more about membership, contact OC Tech Alliance at [email protected] or www.octechalliance.com. Follow alliance activities on Twitter at www.twitter.com/octechalliance.
About Technossus
Technossus is an Irvine, CA-based technology consulting and software services company, dedicated to partnering with clients to develop custom solutions for business transformation and growth. Since 2008, we have provided enterprise-class software development, systems integration, and advanced technology guidance to clients in a number of rapid-growth industry verticals, enabling them to increase agility, enhance productivity and improve business performance. Our highly collaborative engagement involves understanding our client's unique operational goals and challenges, and combining emerging technologies with structured delivery models to develop customized, mission-critical business solutions.
Media Contacts:
OC Tech Alliance
Dan Chmielewski
Madison Alexander PR
714-832-8716
949-231-2965
[email protected]
Technossus
Rob Neppell
Director of Sales
949-769-3500
[email protected]