The Growing Role of Cloud Computing in the Financial Services Industry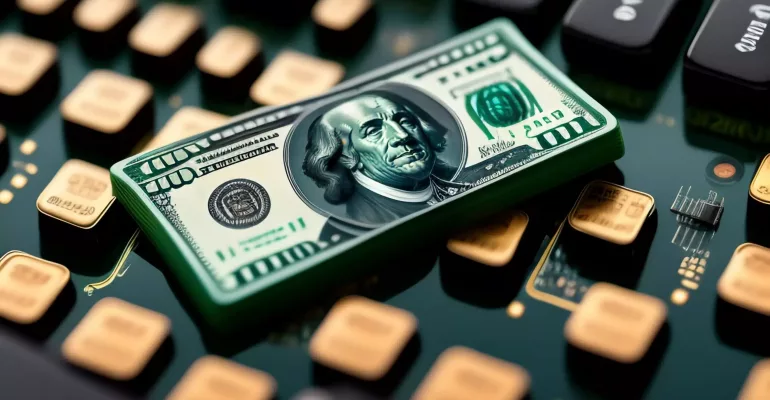 The Growing Role of Cloud Computing in the Financial Services Industry
The financial industry is rapidly evolving and the cloud is playing an increasingly important role. It offers several advantages for banks and other financial institutions. Consider the impact cloud computing is making on each of the following capabilities:
Improved customer service

Cost savings

Enhanced security

Scalability of operations

Data storage capacity

And more
With these benefits, come challenges that must be addressed to ensure successful implementation. In this post, we'll explore how the cloud is revolutionizing the financial services industry and how this type of transformation can be done successfully for an organization like yours.
Cloud Computing Use Cases in Financial Services
The cloud is rapidly changing the way financial services organizations operate. It provides them with flexibility, scalability, and cost savings that weren't previously possible.
Customer Service
Cloud computing provides financial institutions with the ability to offer customers innovative services. This includes online banking, mobile payments, and virtual wallets. This improves the customer experience and boosts customer loyalty.
Data Storage and Analysis
Cloud computing enables financial institutions to store and analyze customer data securely and cost-effectively. This results in informed decisions about customer behavior, as well as identifies areas for improvement.
The cloud also provides financial institutions with the ability to store larger quantities of customer data. Additionally, data stored in the cloud can be accessed from anywhere. This makes it easier to work jointly with other financial businesses or agencies.
Accessibility and Analytics
Furthermore, cloud computing provides access to customer data without needing to physically store it on-site. This eliminates the need for costly IT infrastructure and provides secure storage that can be accessed easily.
Finally, through analytics-as-a-service (AaaS) solutions, banks are able to gain deeper insights into customer behavior through real-time analytics. AaaS can be used to monitor accounts and transactions in order to detect potential fraud or identity theft attempts. It can also uncover hidden trends in customer activities that can help banks better anticipate future demands from users or potential markets for new products or services.
Employee Collaboration
The cloud also brings new opportunities when it comes to collaboration among employees. Teams in different cities or countries can work together seamlessly, sharing documents and making edits in real time. This level of collaboration increases both their efficiency and overall productivity. It also eliminates the need for costly physical meetings or long-distance travel.
Training
Organizations can use cloud-based solutions to provide access to courses or tutorials. They can also enable access to virtual job simulations that can help employees better understand their roles and responsibilities.
Training sessions can happen virtually or asynchronously, meeting the needs of the business and employees alike.
CRM and Resource Management
Cloud-based customer relationship management (CRM) solutions can track customers' interactions. This can provide a better understanding of their individual customer needs. 
Resource management is not just about customers and clients. Cloud solutions can also help manage resources such as employee schedules, quoted policies, and required staffing levels.
How the Cloud is Changing Financial Services
Cloud solutions have paved the way for change in countless industries. However, there may not be one that has seen bigger opportunities than the financial sector.
Improved Customer Experience
By relying on cloud-based solutions, banks can store and access data instantly. This enables them to respond to inquiries quickly and accurately. They can also leverage real-time analytics to gain insights into customer behavior.
Speed to Innovation
Develop and deploy products and services quickly without investing in costly infrastructure. This makes it easier for businesses to experiment with new ideas, while also giving them the flexibility to pivot if needed.
Digital Workspace
The digital workspace provides a more comprehensive and streamlined experience for customers. By offering customers access to a wide range of services such as payments, transfers, loans, investments, and more, banks are able to provide a complete suite of services that can be accessed from anywhere in the world. This enables them to move faster, increase efficiency and improve customer service levels.
Additionally, it reduces costs and risks associated with traditional banking activities. With cloud-based solutions, banks can extend their services to remote areas where it would otherwise not be possible. Furthermore, they're able to automate various processes. This includes onboarding new customers or verifying identities electronically. This reduces manual labor costs while improving accuracy and consistency.
Portability of Data
The portability of data is one of the more critical aspects of cloud computing. Cloud-based solutions securely store customer records that can be accessed anytime. Moreover, they're able to move data between different environments for analysis or other operations without worrying about compatibility issues.
AI-Enabled Analysis
AI analytics solutions can give more in-depth insight into the behavior of customers and markets. Predictive analytics, machine learning, and AI algorithms can automate processes such as risk management or fraud detection.
Credit Checks
Organizations can quickly access customer data to determine their creditworthiness in a secure, cost-effective manner. Cloud solutions also enable faster processing of applications. This enables them to provide customers with an answer quickly and accurately.
Account Creation
Banks and other institutions can quickly and securely open new customer accounts. All without needing to invest in hardware or complex software. This provides customers with faster account creation processes that are more secure and cost-effective than traditional methods.
Security Concerns for the Cloud
Data security is undeniably important in every industry. The rapid growth of digital technologies has resulted in heightened risks and increased worry. It is important to measure the growing role of the cloud in financial services through the lens of security and privacy. Consider the following: 
Intrusion and Data Theft
By using cloud security solutions such as encryption, tokenization, and user authentication protocols, businesses can reduce the risk of unauthorized access or malicious intrusions. Additionally, various monitoring tools track user activity and alert administrators in the event there is suspicious activity.
Compliance and Governance
Cloud computing offers enhanced security measures to ensure that its services comply with all data privacy regulations. This helps to ensure that organizations meet the requirements as required by industry regulations and individual compliance groups.
Employee Access to Private Data
Businesses can take advantage of various monitoring tools that track user activity and alert administrators. Additionally, many cloud-based solutions have built-in features such as role-based access control. This ensures that only users with specific roles can gain access to that data.
Addressing Cloud Challenges for Financial Services
There are several challenges financial institutions face that cloud solutions specifically address.
Cybersecurity Vigilance
Cloud solutions provide built-in defense mechanisms and incident response processes. These can help organizations more effectively detect, respond to, and mitigate cyber-attacks.
Application Optimization and Maintenance
Organizations can quickly deploy and update applications. This can help them to innovate and stay ahead of their competitors. Additionally, cloud solutions can reduce costs associated with IT maintenance and upgrades. This is because they're typically managed by the cloud provider.
Employee Training
On-demand "anywhere" training means employees are trained more quickly and efficiently. This helps them to stay up-to-date on the latest industry trends and technologies that are used in their businesses. Additionally, it gives them continuous access to the resources they need in order to perform their jobs more effectively.
Grow into the Future with the Cloud
Cloud computing provides access to a wealth of powerful features that can help financial institutions grow and succeed in the digital age. From improved fraud detection to enhanced cybersecurity, cloud solutions provide cost savings and scalability. And traditional methods simply cannot match it.
Technossus is a leading global provider of cloud-based solutions for financial services organizations. With decades of experience in the industry, we've been providing customers with innovative technology and insights that enable them to stay ahead of their competition.
We offer a wide range of products and services that help improve fraud detection, cybersecurity, employee training, and more. In addition, we help reduce costs associated with IT maintenance and upgrades while also helping scale quickly to meet customer demand. By leveraging the power of the cloud, Technossus enables its clients to grow into the future.
If your financial services organization is looking to leverage the power of cloud computing, then Technossus is the ideal choice for you. Contact Technossus today to learn how we support the use of the cloud in the financial services industry.