Touchless Technology Revolutionizing the Airport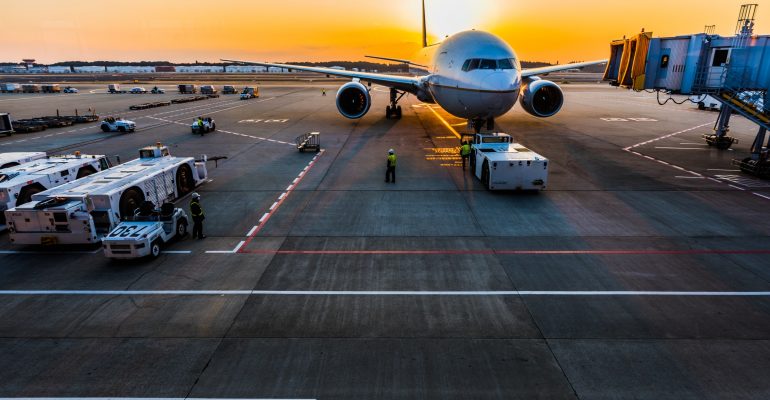 Touchless Technology Revolutionizing the Airport
Touchless technology includes capabilities like facial recognition, automation, biometric scanners, and artificial intelligence (AI). In the travel experience, they offer the possibility of a quick, safe and healthy way to travel. These types of technologies can be used by airports to check individuals in as well as their bags. That means that travelers can board their airplanes without having to touch a screen or even interact with an individual.
While touchless technology has been around for many years, it is the COVID-19 pandemic that has many airports rushing to transition to using it for everyday travelers. These technologies can include a variety of methods including facial scanning or interactive capabilities with travelers' mobile phones. It is anticipated that airports around the world will soon be fitted to allow travelers to use their smartphones at specified touchpoints. This can ease the check-in and baggage drop-off processes.
Moreover, airlines have been showing an interest in touchless technology that can help prevent the spread of diseases like COVID-19. While the technology is not able to make a medical diagnosis, by scanning an individual it can collect biometric information like heart rate, temperature, and more.  Yet, touchless technology in our airports can do so much more including monitoring social distancing measures, improving cleaning services with robots and ultraviolet light, touchless security checkpoints, mobile food service, etc.
Reinventing Check-In
United Airlines has recently made headlines with its announcement that it will be using touchless check-ins at London's Heathrow Airport. It is the first touchless check-in that any airline has installed at that airport.
Using the technology, travelers are able to use their mobile devices to check in at the kiosk. Boarding passes can be scanned right from their device. The kiosk can also scan a printed copy of the passes. That means travelers won't have to touch a screen that hundreds of other people have put their hands on. Thus, reducing their exposure to illnesses like COVID-19. Travelers will be able to use these kiosks even if they are checking luggage. The machine has the capability to print out luggage tags specific to the traveler's reservation.
Types of Touchless Technology
There are different types of touchless technology that are being used in airports around the world. This includes biometrics, such as facial recognition, temperature check technologies, and touchless technology that can be used for services like ordering food.
Biometrics
There are a number of ways that biometrics can be used in an airport environment, including verifying the identity of travelers. For example, face recognition technology can be used in place of an identification card or passport to confirm an individual's identity. Statistics published by Delta show that 72 percent of people actually prefer facial recognition check-in over traditional ways. One of the most interesting uses of biometric recognition technology is at Dubai International Airport, which boasts that travelers can clear immigration in about 15 seconds.
Temperature Checks
Airports around the world are searching for ways to keep travelers safe and prevent the spread of disease, particularly the coronavirus. In Australia, Avalon Airport has self-service kiosks that can record the vital signs of a traveler such as a temperature and heart rate. In other areas, cameras and simple robots are used to monitor the health and temperature of travelers in airport spaces. Anyone who has an elevated temperature in comparison to others in the area may be given a more thorough examination to ensure they are healthy enough to travel.
Digital Services
Another way that touchless technology is making airports safer places to visit is by modifying food services. At the Seattle-Tacoma International Airport, some restaurants have been using a mobile platform called Grab that can reduce and replace real-life servers and minimize exposure to germs. Hungry travelers are able to use their smartphones and scan a QR code or tap on an NFC chip to place their orders. One of the best features of this touchless technology is that customers don't need to download an app to use it.
Cleaning will also become more digitized. That includes having robots constantly cleaning high-traffic areas in airports to prevent the spread of germs and bacteria. It also includes sanitizing luggage before it is loaded onto the plane or disinfecting travelers before they board. In Hong Kong a trial of a disinfection booth claims it can clean an individual in about 40-seconds, helping to prevent the spread of diseases like COVID-19.
The Future of Aviation
The airline industry was hard hit by the COVID- 19 pandemic. Not only did travelers become weary of flying, but government shutdowns and travel bans also negatively impacted business for many carriers and airports. Aviation companies around the world continue to look for new ways to adapt to COVID-19 so they can stay in business. Touchless technologies appear to be one of the best ways that the aviation industry can respond to the coronavirus pandemic.
From touchless check-ins to cleaning and sanitizing robots, there are a variety of ways that touchless technology can change how we travel. Dubai airport has been using the technology for its elevators to help prevent the spread of germs that comes from lots of people touching the elevator buttons.
Another way that touchless technology could be coming to an airport near you is through robots that can remind travelers to use face masks. The extra protection of this technology is that it can scan crowds for those who are not in compliance with a face mask or social distancing policy.
Restrooms at airports may also get updated with touchless technology. Smart washrooms will reduce the need for touching surfaces in the facilities including sinks, towel dispensers, hand dryers, and even toilet handles or flushing buttons. Several airports around the U.S. are either using these technologies already or gearing up to retrofit or rebuild their facilities.
Although touchless technologies won't be able to solve all the challenges that airports face in a post-COVID-19 world, they can be a big step forward in the right direction.