Seizing Value: Using Data Science & Analytics to Direct Digital Transformation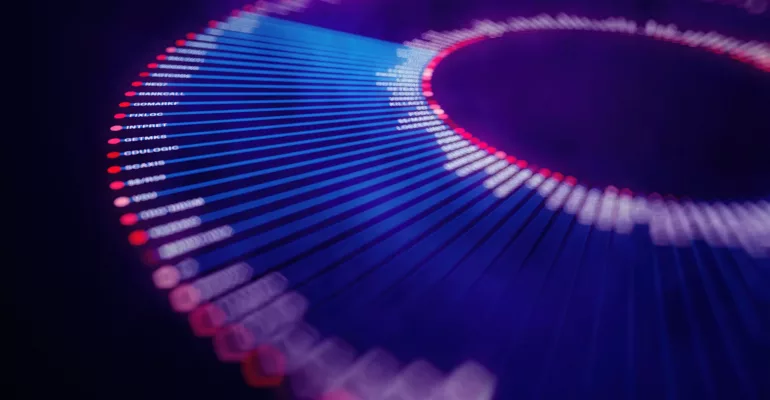 Seizing Value: Using Data Science & Analytics to Direct Digital Transformation
The Biggest Challenge with Digital Transformation
Although digital transformation (DT/DX) is projected to be a $2.19 trillion industry by 2030, there is often a divide between its expected benefit and realized ROI. 
Somewhere in the last decade, the concept of "digital transformation" lost its meaning for modern enterprises, and companies report that they struggle to attribute practical ROI to their tech investments.
One theory for this divide was forwarded in a 2020 report by McKinsey. It said, "Organizations that make minor changes to the edges of their business model nearly always fall short of their goals." The connotation here is that a company must either transform its entire business or not transform at all. 
Liem Vu, CEO of Technossus, a data-driven tech consultancy company with such giants on its client roster as SpaceX, CommonSpirit, and Adapt Health, generally agrees, but also believes the problem runs deeper than that. 
"Companies often fail to hit their digital transformation goals because they go to Digital without enough consideration for a change to the underlying process and operating models supporting the new desired Experience," he says. "This becomes counterproductive to achieving the optimal Experience as the underlying processes and models cannot fully suport the new Digital channel."
What companies should be doing, Vu says, is developing the deep insight, through data, that is necessary for creating the Digital Transformation that meets the business objectives which were discovered through data analysis. 
To tackle this problem and bring realized value to a company's DX efforts, Technossus has adopted a data-driven approach to DX.
Can data play a bigger role?
The primary reason companies express they have difficulty defining the value realized from their transformation initiatives is that they fail to use data, analytics, and insights to direct their business decisions in the first place.
"Not only can data analytics play a bigger role," says Vu, "but it is the key to injecting value creation into process from the beginning." 
After years of working with clients such as GE Healthcare, Toyota, Taco Bell, SpaceX, and other household names, Technossus has developed a robust process for obtaining data to gain insight which opens the door to solutions that create value in an organization. The result is consistent ROI and improvement from DX projects. 
"We developed a data-driven process whereby project prioritizations are directed by the company's own data," says Vu. "We combine robust analytical methodologies with our cross-industry expertise and deep insider knowledge of end-to-end software delivery to design roadmaps that are rooted in growth and value realization."
The challenges with data-driven DX — "Data infrastructure doesn't really sizzle."
"I consistently see two problems with data projects," says Vu. "Early on, it is difficult for executives to recognize the potential value of the project because the work is focused on data infrastructure, which isn't very exciting. The initial work isn't an app or some new breakthrough that they can immediately interact with, so the initial buy-in is a challenge."
The second problem, Vu says, is that it's difficult to build business cases at the start, particularly with AI/ML Analytics projects. Often times, it is not clear what insight will be derived when working with large volumes of disparate data. It often takes multiple iterations to see the patterns and insight emerge and only then can you see the value. That is often why Execs feel they are forced to take a "leap of faith" in the data project before value can be defined. 
To solve this problem, Vu recommends experimentation in the area. "This can help determine the value through iterations," he says. "A series of small, clearly-defined projects to prove concepts that build upon each other, typically helps."
AI/ML Ops is also often missed. Given that the industry is moving to AI/ML models to improve analytics, AI/ML Ops becomes important as models are constantly refined and deployed. It's an iterative process that, when managed effectively, the enterprise gains value from all the work done in this area as it provides a centralized repository and process. But it can feel like a long haul during the journey, before the destination is reached. 
At the other end of the spectrum is Data Governance. Companies often underspend here or don't provide enough focus. An increasingly restrictive environment on the processing and holding of data across jurisdictions means that companies have to pay attention to who owns what data, where it is held, how it is held, and if it is in compliance. Failure to consider these aspects could work counterproductive to achieving ROI as a result of costly fines.
Real-time data is valuable but expensive
Another hard sell is real-time data (RTD). 
RTD is more actionable than stale data. Depending on the industry, stale data could be a month, week, or even 24 hours old. 
But obtaining RTD is also more costly. It requires sophisticated infrastructure and possibly legacy platform, systems, and application integrations to make RTD usable and ultimately most valuable to your operations.
Instead of assuming that RTD will be the silver bullet to solve all problems, a company should do a thorough cost-benefit analysis on it when considering the timeliness of data because acquisition and management costs for data vary based on source, volume, availability, etc. 
Properly budgeted, a company improves its chances of achieving ROI with the RTD instead of breaking the bank for a system that costs more than the value it creates.
Three proven paths to business prosperity
Every company's needs are unique, and Technossus has established three highly workable paths for companies to achieve business prosperity within the overall paradigm of Data>Insights>Value Creation. 
"These proven process paths to meaningful business transformation were developed after a decade of tech consulting work for some of the most demanding companies in the world," says Kevin Castle, Co-Founder and Global Board Member for Technossus Holdings. 
The company reviewed and assessed several dozen of its own case studies to build an internal database of methodologies that worked time and again to provide tangible, practical value to Technossus's clients. The result was the three paths which it has labeled:
The Data & Analytics Path

The Cloud Computing Path

The Process Engineering Path
"We now combine proven effective best practices in value creation during tech strategy development," says Castle, "and deliver them routinely to clients in Healthcare, Aerospace, and Financial Services with great outcome predictability."
Based on nearly two decades of advanced tech consulting engagements, Technossus developed methodologies for each digital transformation path to deliver highly predictable outcomes. Teechnossus now offers comprehensive services in each of the core digital business disciplines that improve businesses' ability to make more informed decisions, modernize and future-proof their technology platforms and applications, and become more operationally efficient.
1. The Data & Analytics Path — Increasing Performance
The Data Analytic path is for companies that want to predict trends, identify opportunities, and optimize performance. 
This digital transformation path uses data, and the insights that data provides, to discover the most efficient path to increased business performance. The process begins with a thorough assessment of existing systems in place to evaluate available skills, capabilities, and gaps that support or hinder a company's specific business goals. 
Once the data is analyzed and insights obtained, the path moves into Phase Two which is the Tech Plan Creation. Custom tech plans are developed to improve and optimize a business using the latest available technologies. 
After the plan is finalized, an implementation phase develops modernized tech capabilities and deploys them with the end goal of value creation.
2. The Cloud Computing Path — Increasing Productivity
The Cloud Computing Path is one of the most popular paths to digital transformation for companies who want to future-proof their technology, accelerate the modernization of apps, or achieve sustainability. 
Phase One of this path is to carry out a detailed examination and assessment of the legacy environment, code capabilities, and business needs. 
Once the technological landscape is mapped, Technossus develops a custom plan using in-house methodologies for improving and optimizing any existing cloud-based platforms, systems, and apps through migration.
The final phase seeks to modernize systems. This is done through application refactoring (rewriting components of an application to use public cloud services), new app development, and tailored cloud solutions for that specific business's needs.
3. The Process Engineering Path — Increasing Prosperity
The third core path to valuable digital transformation, Technossus's Process Engineering path, delivers business process optimization and workflow automation to bring innovative software and technologies together that expedite manual operational tasks.
This is the ideal path for companies undergoing overall DX. 
Step one of this path is to assess existing systems. Here, Technossus evaluates available skills, capabilities, and gaps that support or hinder a company's ability to achieve specific operational goals. 
The goal of the assessment is to discover where intelligent automation opportunities may exist.
The key to future-proofing a business is to make sure it is taking full advantage of advanced technologies like AI, ML, and RPA to automate business processes and find new efficiencies. 
Once the direction is clear, Technossus designs custom optimization plans for any complex business processes, using primarily AI, ML, and RPA technologies. Apps are then prioritized for re-engineering to offer new features to employees or customers, and even to open up entirely new channels of business for the organization.
Data tells the tale — Technossus's methodologies work
Technossus has successfully used each of the above paths to help multiple large healthcare, aerospace, and financial corporations achieve their DX goals. These companies include Corticare, Common Spirit, First American, Houlihan Lokey, and SpaceX. 
Each of these companies had its unique challenges and needs, and these challenges and needs were met with at least one of the three above paths. By utilizing data to achieve insights, value was created and the most efficient transformation strategy was established, ensuring that the company's DX investment had the greatest possible chance of achieving satisfactory ROI. 
"The larger the potential impact, the more important data-driven decisions become," says Vu. DX is far more than "modernizing processes" and "improving an app." It should be a comprehensive improvement of a company's entire structure, conducted in a collaborative manner between departments, and based on actionable data that every employee can get on board with. 
Data drives this change and that data shouldn't be siloed. 
"We looked carefully at our own data relating to everything that goes into designing, developing, and deploying high-value digital transformations across industries. The insights we derived shaped the methodologies we now put into practice to vastly improve the reliability of our methods. We accomplished what we set out to do as a tech consulting business – solve for the business value disconnect many companies face when undertaking digital transformation objectives – and this is now our guiding light," summarizes Vu.
In this sense, data drives Technossus's own decisions regarding the efficacy of its proprietary paths, just as the tech company is helping its clients use data to create DX strategies that maximize ROI.
###
Technossus is a California-based data-driven tech consultancy with such clients on its roster as SpaceX, United Healthcare, Abbot, Taco Bell, and Toyota. 
Liem Vu is Technossus's CEO and a 30-year veteran in the consulting industry. He has previously served in several leadership roles in multiple major companies. 
Kevin Castle is the co-founder and a Global Board Member for Technossus Holdings. He is also a founding member of The Innovation Leadership Forum and Host of the HUMANITY Podcast, a show revolving around how technology will impact society. 
Visit www.technossus.com for digital transformation case studies and related content.